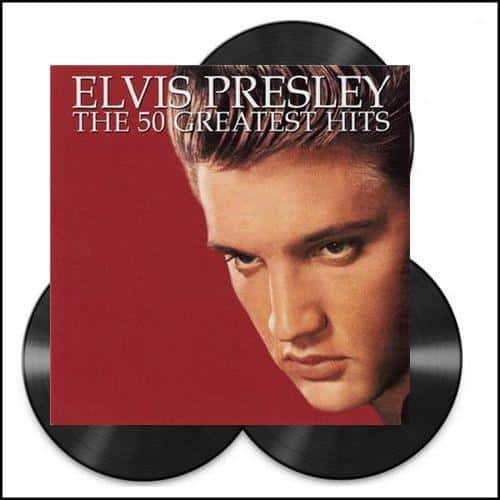 ELVIS PRESLEY
The 50 Greatest Hits (3LP Set)
$85
The 50 Greatest Hits (3LP Set)
Elvis Presley's The 50 Greatest Hits is an incredible collection of Elvis' hits highlight his astonishing career. From the poor streets of Tupelo to world domination via some of the biggest songs ever released, Elvis became the first really global star.
The 50 songs on The 50 Greatest Hits include all the classics, from his first recording at Sam Phillips' Sun Studios, "That's All Right (Mama)", through his hits including "All Shook Up", "Viva Las Vegas", "Jailhouse Rock" and "Can't Help Falling in Love", through to one of his last hits "Suspicious Minds". The album also includes songs taken from Elvis' film soundtracks including "Return to Sender", "Hard Headed Woman" and "King Creole".
3LP heavyweight triple LP package on 180gm audiophile vinyl, completed with a stylish black & white info sheet.
TRACK LISTING
LP1
SIDE A
1. That's All Right
2. Mystery Train
3. Heartbreak Hotel
4. Blue Suede Shoes
5. Lawdy, Miss Clawdy
6. Hound Dog
7. Don't Be Cruel
8. Love Me Tender
9. Too Much
SIDE B
1. All Shook Up
2. (Let Me Be Your) Teddy Bear
3. (Let's Have A) Party
4. Loving You
5. Jailhouse Rock
6. Don't
7. Trouble
8. Wear My Ring Around Your Neck
9. King Creole
LP2
SIDE C
1. Hard Headed Woman
2. One Night
3. (Now and Then There's) A Fool Such as I
4. A Big Hunk O' Love
5. Stuck on You
6. The Girl of My Best Friend
7. It's Now or Never
8. Are You Lonesome Tonight?
SIDE D
1. Wooden Heart
2. Surrender
3. (Marie's the Name Of) His Latest Flame
4. Can't Help Falling in Love
5. Good Luck Charm
6. She's Not You
7. Return to Sender
8. (You're The) Devil In Disguise
LP3
SIDE E
1. Viva Las Vegas
2. Crying In the Chapel
3. Love Letters
4. Guitar Man
5. If I Can Dream
6. In the Ghetto
7. Suspicious Minds
8. Don't Cry Daddy
SIDE F
1. The Wonder of You
2. I Just Can't Help Believin'
3. An American Trilogy
4. Burning Love
5. Always On My Mind
6. Suspicion
7. Moody Blue
8. Way Down